Create projects to manage your Vendors time, progress, and expenses. You can add tasks and milestones, hours, files and discussion.
Adding a New Project
To add a new project, go to Projects > Add Project 
Each project must have a Name, Description, and Due Date, and Project Manager
Use the dropdown menu in the top right corner labeled Project Type to designate your new project as Billable, Non-Billable, or Internal  
In the bottom left corner of the popup, decide whether you'd like a weekly report sent to the Owner/Project Creator and/or the Project Manager or neither  
Clicking the Save button will bring you to the Project Details page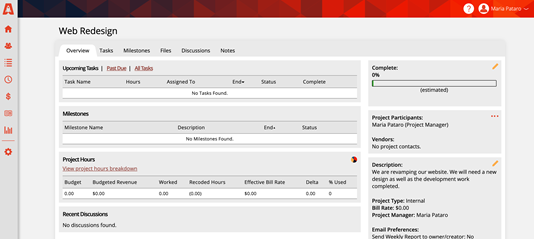 Viewing and Editing a Project
Now that you have a project in the system, let's go over the Project Details page and what actions to take from here. The Project Details page is where you will see an overview of the project, add and keep track of tasks and milestones, upload and view files pertinent to the project, add and participant in discussions with other project participants and vendor contacts, and add and read notes pertinent to the project.
Overview
The Overview tab of the Project Details page displays summaries of Upcoming Tasks, Milestones, Project Hours, and Recent Discussions. To edit portions of the project from the Overview tab, follow the steps outlined below:  
To add Project Participants and Vendor Contacts, click on the ellipsis next to Project Participants on the right-hand side of the page. From the action list, select Add/Remove Participants  
Click in the field where you'd like to add participants (Users or Vendor Contacts) and select as the name auto-populates  
Now that you've added Users and Vendor Contacts, you can assign project tasks  
To edit the description, type, bill rate, project manager, vendor, email preferences, due date, or go-live dates, click on the edit icon next to description in the lower right-hand corner 
This action will open the Project Settings popup, where you can edit any of the above-mentioned elements