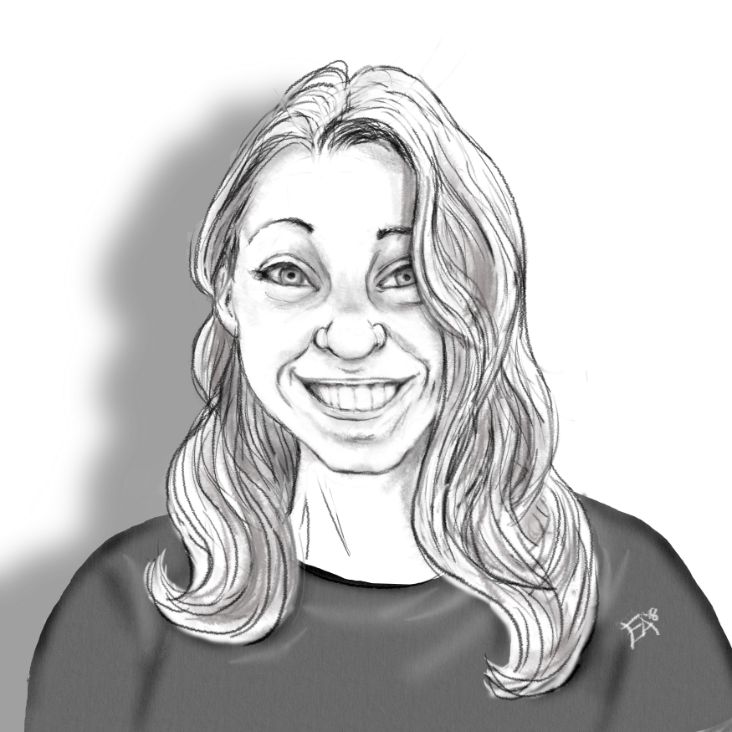 Today's Aysling Team Spotlight is all about one of our most creative, creatives, Claire Berger. If you've ever stopped by the new offices, it's likely you have seen her work. Whether you're exploring the Michigan woods in one of the call rooms, or enjoying the game themed pong/hockey room, it certainly feels like home at the offices.
Take a quick trip with us as we learn more about Claire, and what sparks her creativity.
What's your name?
Claire Berger
What is your job title at Aysling?
UI / UX Designer "We also call her our Creative Director, you'll see many titles for Claire."
So, what does that mean you actually do?
I take direction from the product manager, gathering information about how a particular part of the site works or should work, and come up with ideas for how it should look and function.
How long have you worked at Aysling?
Three years.
What is your favorite thing about working at Aysling?
Definitely the people. "She's clearly has the most class out of all of us."
What is/was your favorite magazine publication?
In high school I was the designer for my student newspaper and we had a small magazine insert that would go into the paper called The Rostrum. I got to design the cover so I would say that is my favorite.
If you had to publish your own magazine, what would it be about?
I really like to craft and I really like to cook. On the vast internet usually you only come across successes in those fields. A lot of the time when I try something new I make a lot of small mistakes and it takes me a couple tries to get it right, If I had a magazine I would tell the story of any of my projects from start to finish with all the mistakes made along the way. That way if someone else tries it, they can at least avoid my mistakes! "Check out the images below of Claire's work around the office, needless to say, it feels like home because of her!"


What is the one piece of software you cannot live without?
I'm going to cheat and say two: InDesign and Photoshop.
What is your favorite season?
Summer
If you could live in any movie/television show, which one would it be? And why?
Bob's Burgers. As weird as the show is it is packed full of great lessons and feel good moments. It just seems like a good environment to be in.
Board, Card, or Video Games?
Card games.
Favorite type of sandwich?
The vegetarian Reuben from Zingerman's.
Interesting fact about yourself?
I have been using a trackpad for so long that I find it incredibly difficult to use a real mouse.
And finally, what is your favorite quote/lyric (movie, television show, song, or inspirational)?
""You miss 100% of the shots you don't take" -Wayne Gretzky"

– Michael Scott
And that's all folks! Thank you for joining us on this interview with our UI/UX Designer, Claire Berger. For our next Aysling Team Spotlight, join us as we welcome back our Senior Intern from University of Michigan, Travis Spuller!
Request Your Demo Today
Take a few moments to fill out our brief webform, and one of our Account Executives would be happy to show you the Aysling platform.